Grow in harmony with nature
Welcome! Whether you are new to gardening or more experienced, we'd love you to get involved and pledge to create a Coronation Garden for Food and Nature.
Grow your own carrots or strawberries to save money on your weekly food shop and relax in nature among the butterflies and birds in your garden or on your balcony. Enjoy fresh tomatoes, cucumbers and herbs to serve your family healthy meals from your kitchen garden, while bees brunch on wildflowers in your backyard or window box.
If you are a beginner, we are here to help you get started by taking one simple step at a time. If you are seasoned gardener, we would love you to get involved too. We will be adding more helpful tips soon. But, like nature some things take time to grow, so please bear with us.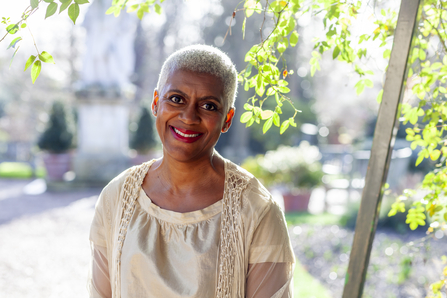 "Even the smallest of outdoor spaces can be used to grow wildflowers alongside salads and herbs – it's all about getting creative and thinking outside the box. I love seeing imaginative growing ideas on balconies and window ledges and I hope that people everywhere will get behind this project, using outdoor areas of all shapes and sizes."
Arit Anderson, garden writer, designer and presenter
The five features of a Coronation Garden for food and nature
We've identified five key steps to creating a garden that's great for you and for wildlife. If you'd like to take part, here are the things you need to do:
1. Grow healthy food to eat – this could range from herbs and salads, through to vegetables and fruit trees depending on the space you have.
2. Plant pollinator-friendly blooms – butterflies, moths, bees and hoverflies all need sources of nectar and pollen to thrive. As they travel from flower to flower, they also pollinate them, enabling plants to set seed or bear fruit.
3. Create a water feature - it could be as simple as a submerged dish or as involved as digging a pond, lining it and oxygenating it using native plants such as hornwort.
Coronation Gardens in progress
Join our green-fingered community taking action for nature by growing sustainable food today!
Number of gardens, window boxes and balconies blossoming...
Please enable javascript in your browser to see the map.
Layers